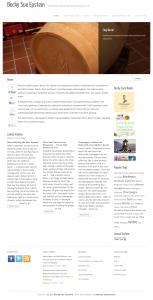 This site, in a WordPress blog format, has been through several iterations of the skin ranging from a customized template to something more off-the-shelf. Becky Sue and I have worked together for several years since I first moved her flat html site to WordPress. Recently I moved this site to a new host for better service and facilities.
"Gayle really listens to every request, and has recommendations for all steps of the process.
She has done a couple minor redesigns for my website and we're planning a new phase with an additional website this fall." Becky Sue Epstein, September 3, 2008

Top qualities: Personable, On Time, High Integrity
The site has been through several iterations. Below is the design prior to August 2012.